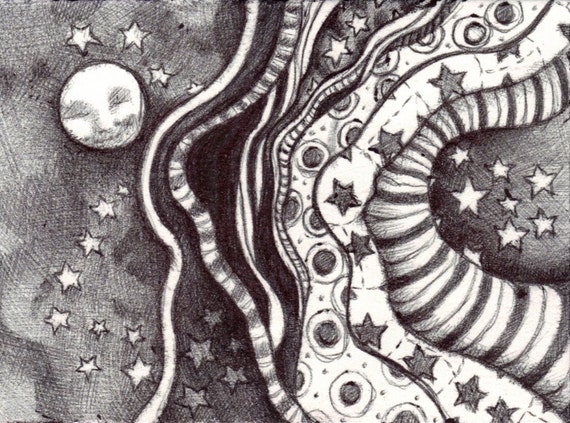 Savannah Schroll Guz, "Space-Time Continuum", 2012
(Sold 4/13/12)
Over the past few weeks, I've been so consumed with class prep, grading, and other responsibilities that I haven't had a chance to post. However, this coming Saturday will be my last two classes for the semester. Already, I have an incredible sense of relief, since I finished up my long commutes to and from Wheeling last night. After some of my experiences this semester and last semester, I will not return to my current adjuncting post. Although I enjoy teaching very much, especially to those students who care, the drama that comes with my current position is something I really want to get away from, especially since I make almost nothing. It's definitely not a living wage, and I don't get combat pay. So I've begun to seriously consider concentrating my efforts in a different direction, one that is more rewarding, even if those rewards are only personal.
On this happier note, I mentioned a project that I had begun, and once I submit my grades, I can devote more time to it. I hope to have some new things to post by next week, although I want to send them to the person with whom I am working first and get his feedback as well.
Last Wednesday night, Michael and I went into Pittsburgh to The Frick Art and Historical Center, and I took a fabulous class with Pittsburgh-based illustrator
David Pohl
. (
See his new work here!)
Until mid-May, The Frick has a wonderful exhibition, titled "Draw Me a Story", which presents the original work of book illustrators, from Kate Greenaway and Randolph Caldecott (sound familiar? He has an award named for him) to
Trina Schart Hyman
(one of my illustrator heroes, whose work I looked forward to seeing in
Cricket Magazine
when I was a little girl).
Many years ago, my Mum got me a perfect bound softcover of
Beauty and the Beast
. It was illustrated by Mercer Mayer, with some of the loveliest, most delicate pen and watercolor drawings I have seen. And in a period largely dominated by the Disney conception of what the two characters should look like, Mayer's Beauty and Beast are even more baroquely beautiful. I brought the book back to West Virginia from my parents' home when we visited at Easter, so I could more carefully examine every puddle of color and ink arabesque on the pages. Mercer Mayer also wrote and illustrated another of my favorite books from childhood:
Just Me and My Dad
.
Excitingly, I've also begun selling a few items from my Etsy store. I make art pins from polymer clay that I bake and paint. Here's a piece that sold last Tuesday:
"Cherry Pie Slice" (an art pin)
Sold 4/24/12
I also sold two other items, one a small drawing (above) and another art pin that is shaped and painted like a golden butterfly. So, things are looking up in the art store. Hooray!